Ordinary Villains by E. K. Keith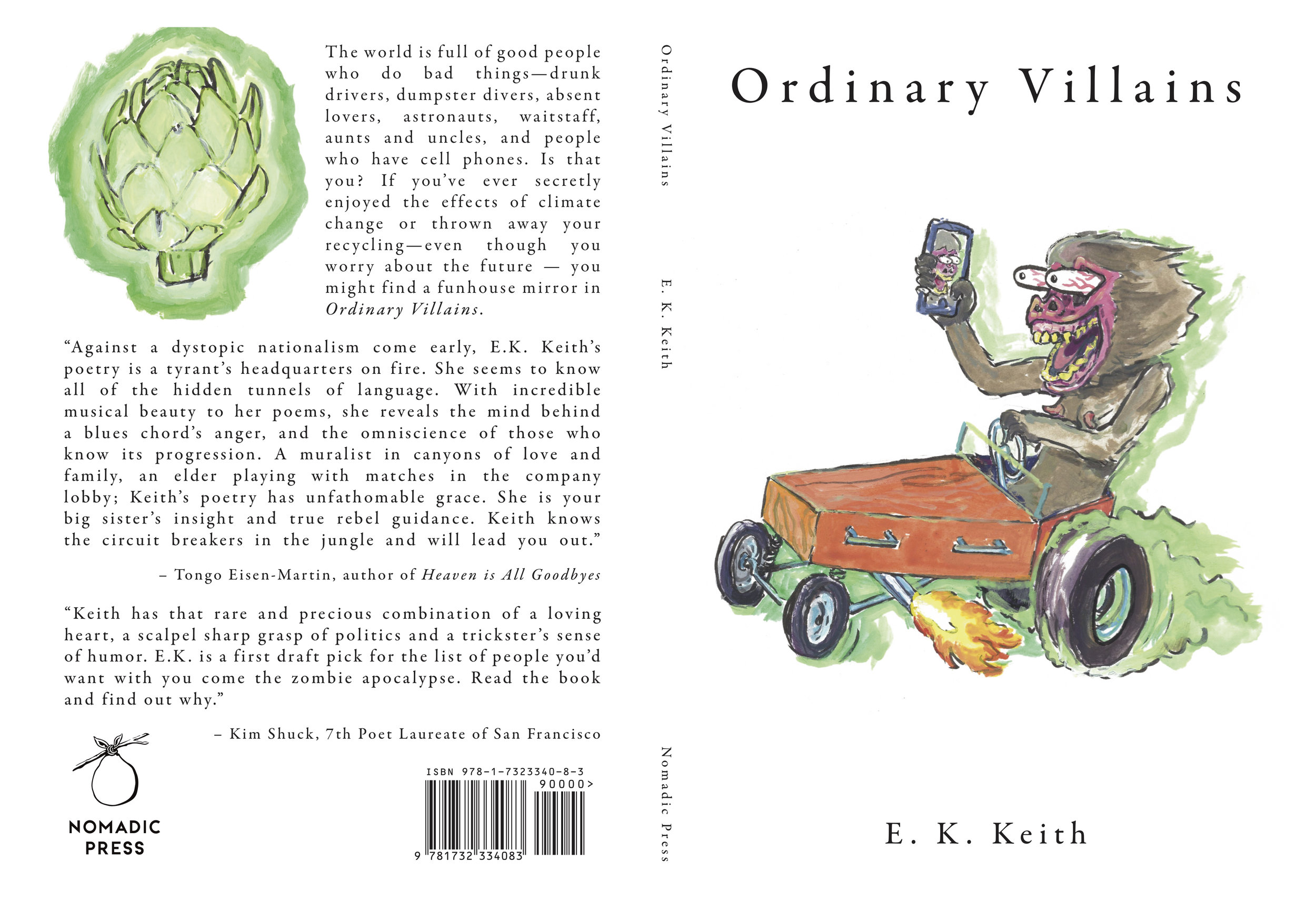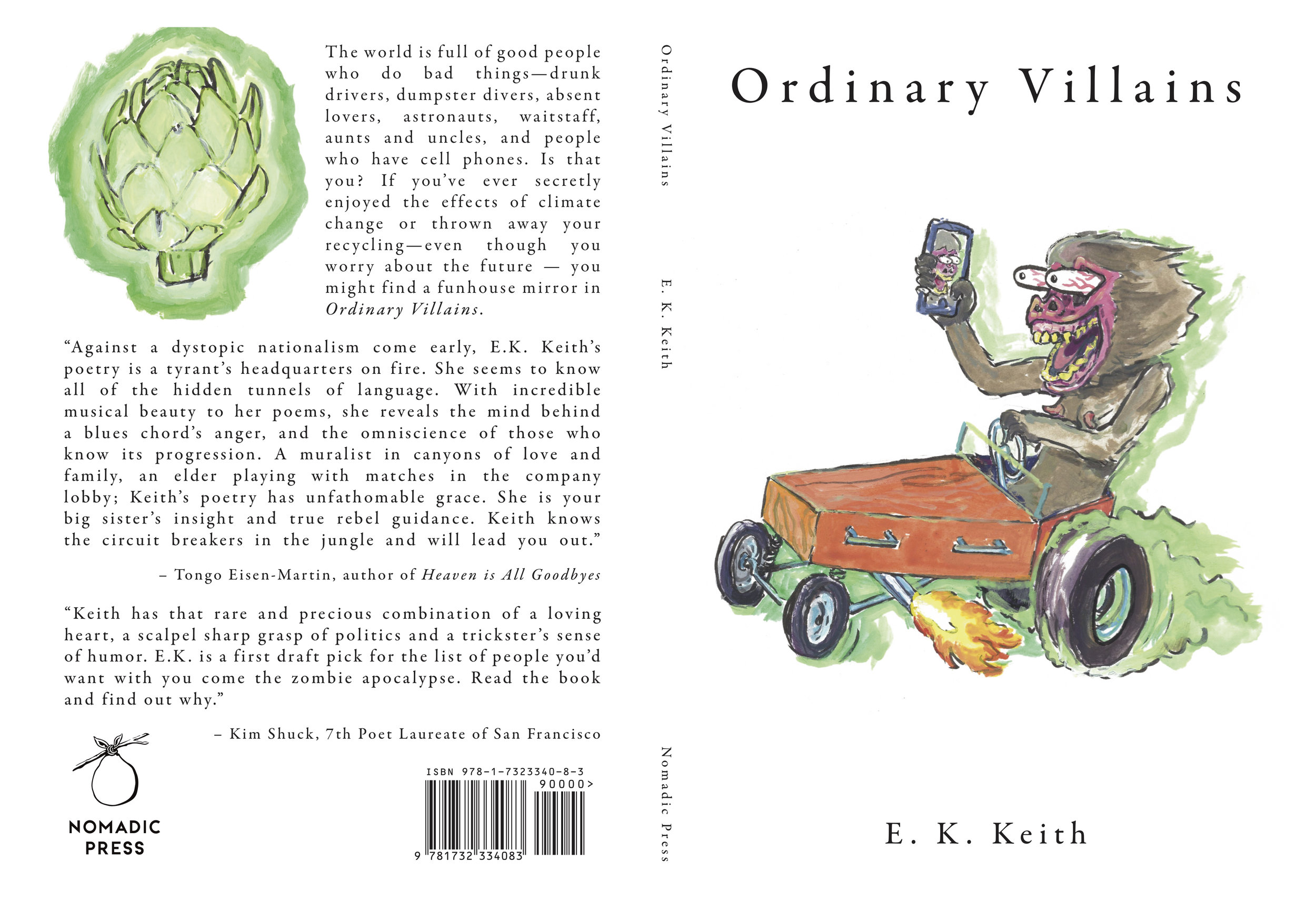 Ordinary Villains by E. K. Keith
The world is full of good people who do bad things—drunk drivers, dumpster divers, absent lovers, astronauts, waitstaff, aunts and uncles, and people who have cell phones. Is that you? If you've ever secretly enjoyed the effects of climate change or thrown away your recycling—even though you worry about the future—you might find a funhouse mirror in Ordinary Villains.
Independent bookstores and libraries can order from our distributor, Small Press Distribution, here
Praise for Ordinary Villains:
"Against a dystopic nationalism come early, E. K. Keith's poetry is a tyrant's headquarters on fire. She seems to know all of the hidden tunnels of language. With incredible musical beauty to her poems, she reveals the mind behind a blues chord's anger, and the omniscience of those who know its progression. A muralist in canyons of love and family, an elder playing with matches in the company lobby; Keith's poetry has unfathomable grace. She is your big sister's insight and true rebel guidance. Keith knows the circuit breakers in the jungle and will lead you out."
– Tongo Eisen-Martin, author of Heaven is All Goodbyes
"Keith has that rare and precious combination of a loving heart, a scalpel sharp grasp of politics and a trickster's sense of humor. E. K. is a first draft pick for the list of people you'd want with you come the zombie apocalypse. Read the book and find out why."
– Kim Shuck, 7th Poet Laureate of San Francisco
"Ordinary Villains is the stunning debut collection by E. K. Keith. Welcome to E. K.'s America: you might recognize it. It is an America that is poisoning itself; an America that is forcing young girls to hate their bodies; an America at war with itself and others; an America that believes in a dream that has become a nightmare for most. Many of these poems are rough in their language but sound vaguely familiar. Why? Because they have the ring of truth about them, a sound that is recognizable anywhere and by anyone. In the world of I, a married man curses at his date at the bar, another man kills himself with heroin and tortures his family, a girl tortures herself to be attractive and everyone follows the American dream—drunk—burning fossil fuel up and down the highways. These are musical but plain-speaking poems that concern themselves with ordinary lives as they are being lived in the 21st century and are peopled with ordinary, flawed sinners: people like you and me. These pieces are chanted like spells and they weave their magic on the reader: once you read them you will never forget them."
– Natasha Dennerstein, author of Seahorse and About a Girl
Publication Details
All of our books are printed locally in Oakland, CA. We strongly believe in supporting local publishers and local printers.
September 2018 • 5 x 7 • 90 pp. • Trade Paper
ISBN: 978-1-7323340-8-3
Cover art by Arthur Johnstone
Interior and cover design by J. K. Fowler